Ready for freedom: A Volunteer Testimonial from Elliot Billingsley
Ready for freedom: A Volunteer Testimonial from Elliot Billingsley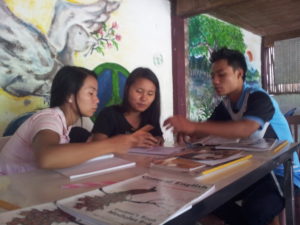 This year, I had the privilege of teaching at the SDC for a short, 3-month term. The SDC is one of the best run community-based organizations on the Thailand-Burma border. It gives an opportunity for Karenni and other Myanmar refugees to gain the building blocks for a greater civil society. I am lucky to have been a part of it.
At the moment, I'm traveling between Karen and Shan states to enjoy some of the best the country has to offer: gilded pagodas rising to the sky, lively tea shops on quiet streets, endless friendly encounters with the locals. Today I gazed upon the wondrous surface of Inle Lake.  I'm visiting a country where members of the SDC students call their own, but where few of them have had the chance to live freely. Myanmar, in isolating itself from the world, has alienated its people from their land. Now, as foreign tourists spur the construction of five star hotels and the restoration of national treasures, thousands of young Karenni still miss their homeland.
This oppression won't last forever. An economic boom is giving opportunities to more people. Next year holds hope for a fair and free election. Most importantly, young men and women like those at the SDC are preparing for membership in one of the world's newest democracies. With SDC alumni on the ground, we can hope that Karenni in particular gets a piece of the pie.
In the ethnic states lining the perimeter of this country called The Union of Myanmar, the question of reconciliation versus autonomy is a burning and important question. As a teacher of English, I did not have a role in instructing the students on this matter. But thanks to the improved position of the students who have better access to knowledge, I believe that they can make more educated decisions about the right way forward for Karenni State. For example, students in the Advanced Community Management course are currently learning about sustainable development. Who knows how they will use this knowledge to build a clean and green economy in the coming decades?
The struggle of refugees, who have their basic needs taken care of, but who crave freedom, is in this way a particularly modern struggle. Yet it resonates with an ancient need that all people share, that is, to move and live as they choose.  The SDC has inspired me to believe in the capacity of humans to overcome systematic oppression, and to continue the fight for freedom. For this I thank them.
Elliot Billingsley, September 2014